"Mickey"
Quaranteed
1996 APHA Sorrel Solid Gelding
son of Quorum
Mickey was previously owned by Barbara Berrett who, prior to her death, competed on Mickey in English and Western and also thoroughly enjoyed trail riding. We thank Barb's sister, Beth Myers, for entrusting Mickey to our care. Mickey is now ridden with the Posse, participating in parades, Search and Rescue, etc., and is enjoyed as an excellent backcountry horse.
Mickey is a Breeding Stock Western Pleasure point earner & Ride America 100 hour award with Barbara Berrett, along with a variety of High Point Breeding Stock awards at APHA shows, buckles, year end blankets, etc.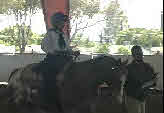 "Zip"
CEO Zipawhirl Colonel
Blanketed Appaloosa Sorrel Gelding
Zip is Jade and Mark's horse! (Jade and Mark are Christi's kids / Jorene's grandchildren. ) Zip's dam belonged to Jade and Mark's paternal grandfather. Their father started Zip under saddle, then Zip went off to an all-around trainer for several months. Zip spent many, many miles in the backcountry,and a few in local parades, ridden by their grandfather before he gave Zip to Jade and Mark. They use Zip for backcountry riding.
What a great match!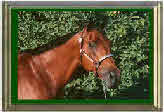 "Scooter"
Jeromes Z Bar
1986 AQHA / NFQHA bay
grandson of Blondy's Dude (QH) Gelding
Scooter has competed successfully in Western & English Pleasure, Trail, and Halter. He is a phenomenal Showmanship horse and competent in Reining and Hunter/Jumper to 2' 6". He has also put in a lot of miles on backcountry trails.
Scooter became "famous" locally when Christi rode him in Christi and Eric's wedding.

In his "previous life", Scooter was a Team Roping horse.
He is now retired with a heart murmur.